Fair Trade Fortnight 2022
16th Mar 2022
Knockavoe celebrated Fairtrade Fortnight this year by engaging in lots of fun multi-sensory lessons and activities. Pupils took part in captivating sessions such as sensory stories, cookery lessons and African drumming using Ronan's beautiful Fairtrade drums. Some pupils took part in a Fairtrade Art gallery and some of the visual messages created by pupils were uploaded onto the Fairtrade Organization Online Youth Exhibition Hall https://www.fairtrade.org.uk/choose-the-world-you-want/exhibition-hall/
KS3 pupils also took part in fairtrade weaving using natural and manmade fibres and they explored sustainable fibre farming methods.
The Fairtrade activities, messages and pictures from the pupils at Knockavoe will help inspire climate action! Their collective action will act as a reminder to all that we need to listen to the farmers most effected by climate change and take action for a fairer future.
Pupils also took part in a fun Fairtrade Penalty shoot on Friday 25th February. Special thanks to the Foyle Fairtrade Campaign for supplying us with a cool Faritrade football https://www.facebook.com/foylefairtradecampaign/
Also a special thanks to Marks and Spencer's and Tesco's Derry and ASDA in Strabane for supplying lots of Fairtrade goodies for the pupils of Knockavoe for their excellent endeavours in promoting the benefits and importance of supporting Fairtrade (Article 32 UNCRC).
Fair Trade Fortnight 2022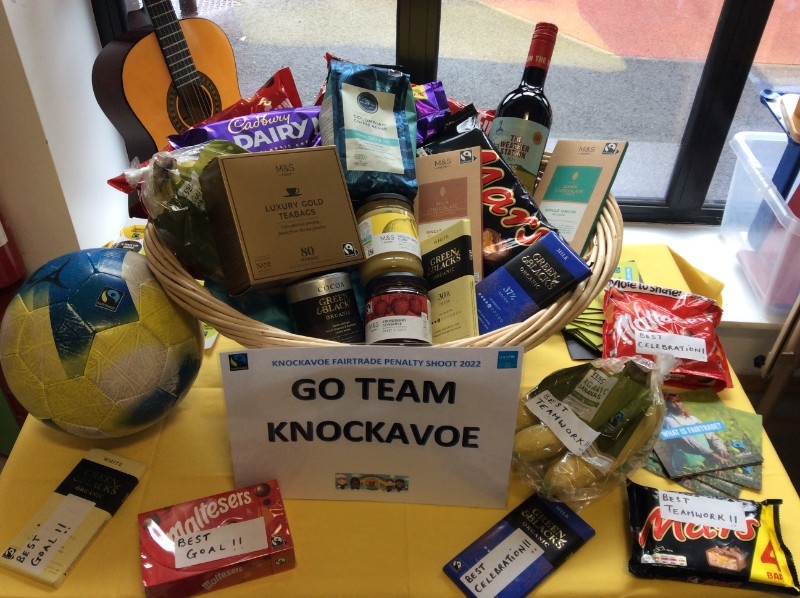 Knockavoe School 10 Melmount Gardens, Strabane BT82 9EB | Phone:028 7188 3319

WEBSITE BY: SCHOOLWEBDESIGN.NET | Login