Rights Respecting School Information
Rights Respecting School
We are a Rights Respecting School. In 2014 Knockavoe School was awarded a RRS Level 2 Award for our excellent work. On 13th May 2019 we were reassessed and awarded GOLD!! which is the highest Level of the award (previously named Level 2). The children and young people in Knockavoe School play a leading role in driving our Rights Respecting School process supported by the very dedicated staff and parents.
Knockavoe engages in Teaching and Learning About Rights for the whole school community through training, curriculum, assemblies, topics, focus days/weeks, displays and community and global links.
Knockavoe engages in Teaching and Learning Through Rights: by modelling rights respecting language and attitudes and making strategic decisions that involve students such as listening to Student Council respecting pupils right to be heard. We share many of our Rights Respecting School events and activities in local press and in our RRS newsletters.
Pupils and staff of Knockavoe School are Ambassadors for the Rights of Others and we are rights respecting citizens. We engage in various local and global fundraising and awareness raising events such as Shoebox Appeal, Fairtrade Fortnight, helping to build St. Pamachius School in Africa, World Water Day, Global Learning Week, Soccer Aid, Macmillan Coffee Morning, Helping the Homeless, donating hampers to local community groups such as Woman's Aid, Strabane Community Unemployment Group and Local Foodbanks.
We are a RRS Level 2 as we…
Demonstrated that we embed children and young people's rights in our school practice and ethos.
We implemented the four evidence-based standards that cover the leadership of the school, knowledge and understanding of children's rights, ethos and relationships and the empowerment of children and young people.
The journey to Level 2, the highest award granted by Unicef UK. Level 1 and Level 2 awards are valid for three years, after which time we will be re-assessed.
What is the RRSA?
The Rights Respecting Schools Award is a Unicef UK programme that aims to put children's rights at the heart of schools.
It focuses on embedding children's rights in the ethos and culture of schools to improve well-being and develop every child's talents and abilities to their full potential.
Schools work with UNICEF and RRS assessors to help them on their journey to become fully Rights Respecting. The Award recognises a school's achievement in putting the United Nations Convention on the Rights of the Child (CRC or UNCRC) into practice within the school and beyond.
Charters
Student Council
RRS Lessons and activities
Newsletters
Multicultural Week
Anti Bullying Week
Fair Trade Day
Inclusion
Wellbeing therapies
Day For Change
UNCRC Articles beside displays
Community and global links and RR promotion and awareness e.g. Newspapers, joint projects
Charity work e.g. Autism Awareness, Shoe Box Appeal
Celebration of children's talents through assemblies, choir and performances
Website
RRS Newsletters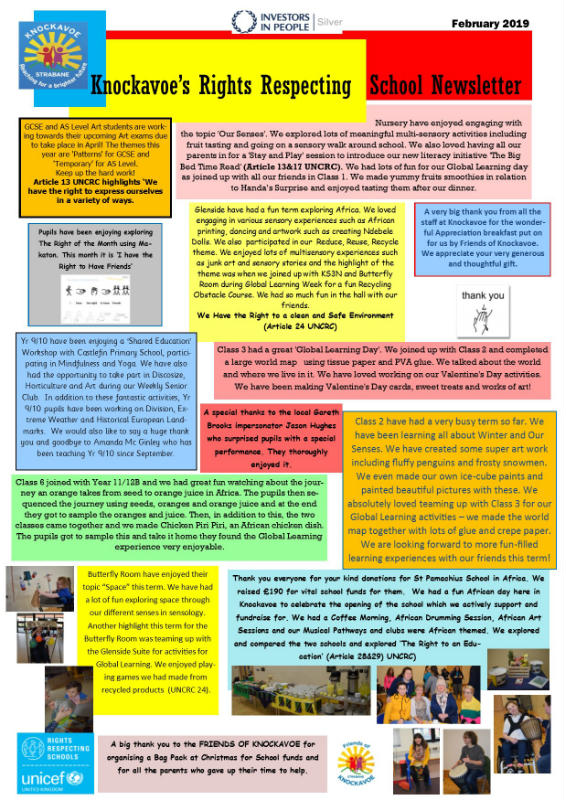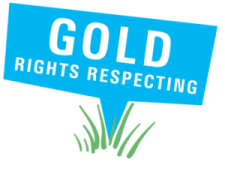 The Rights Respecting Journey
Knockavoe School 10 Melmount Gardens, Strabane BT82 9EB | Phone:028 7188 3319

WEBSITE BY: SCHOOLWEBDESIGN.NET | Login