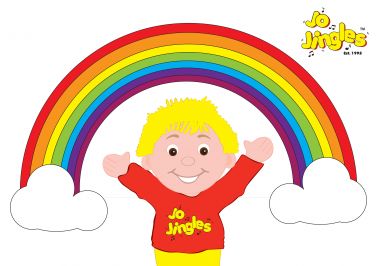 Jo Jingles
Who's that happy little fellow all dressed in red and yellow?
Jo Jingles is a popular and established children's music and movement class that is delivered here in Knockavoe. Jo is the colourful, friendly character that actively participates in all of the Jo Jingles classes. From his initial welcome, to his infectious waving and enthusiastic cuddles, Jo sings, dances and has a great imagination! It's not uncommon to find him pretending to be a train driver, a monkey or even a teapot during class!
He likes playing hide and seek with his friends, while at other times he simply falls asleep and needs some help to wake up again! Sometimes Jo is shy and needs encouragement too, but he always makes time for hugs when it is time to wave goodbye!
The science of regular exposure to music:
Improve language and speech
Stimulate imagination
To build social skills and make friends
To sing songs and hold a tune/note
Play percussion instruments expressively
To find and feel the rhythm to move and dance
Improve their balance and coordination
Knockavoe School 10 Melmount Gardens, Strabane BT82 9EB | Phone:028 7188 3319

WEBSITE BY: SCHOOLWEBDESIGN.NET | Login